Monday, June 1, 2009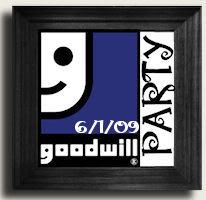 I was running around the internet this morning when I happened upon a Goodwill party over at Thrifty Decor Chick. I have never done a carnival before, so I am not sure I am doing this right, but I'll give it the 'ol college try!
Those of you who know me well, know I love to shop. I am an equal opportunity shopper. I love big box store, little shops, flea markets, second hand shops, and antique stores! Today I want to share with you what I think is the best bargain I have ever found at a second hand store and the story behind it.
I was feeling inspired by all the dollar store decor ideas I was reading on the web. Sometimes when you get inspired, you just have to get up and go do something about it that very minute. Such was the case about a month ago when after reading about Dollar Store birds, I made a "wish" list of things I wanted to find either at the Dollar Store or thrift stores and headed out in search of cheap treasure! I didn't have any luck at our local Dollar Tree where I like to do a "little" shopping here and there ( you know I am totally lying right?) so I headed over to a local Thrift Shop that happened to be the very same place I found two crystal lamps for $2.48 each that have graced my nightstands for about 7 years.
While I was walking around looking for any kind of single bird to spray paint and add to my home decor, I spied a lovely blue wing back chair. I walked back and forth trying to get a good look at it. My only obstacle was not the price or condition, but a woman sitting in it talking on her cell phone! I didn't want to be rude and ask her to "move it lady, I want to look at that chair!", so I tried to act casual. You know, glancing back and forth, lingering around it to get a feel for the best time to approach said bargain. Instead I probably looked like I was stalking her. Creepy image I know.
During one pass by, I noticed the price tag on the chair. It said, "1818".  I wasn't sure what that meant, but after using logic and questioning one of the workers there, she confirmed my suspicion that indeed the chair was $18.18!  I felt a flood of adrenalin.  I'm sure I'm not the only shopper who gets that heart thumping feeling when she comes upon a truly awesome deal? I got brave and asked the lady if she was buying the chair. She said she wasn't and got up so I could look at it. I didn't need to pour over it to know that it was in excellent condition with no stains or rips. It was a solid chair with no issues. So what did I do?
I bought it of course!! I immediately said, "I'LL TAKE IT"  and started pushing it down the aisle toward the register. I knew it was time to high tail it out of there before someone figures out what a find I had!
I paid for it and carried it out to the parking lot. I opened the car door and wham! I couldn't get it in my car. I suspected I might have a teensy problem with getting it to fit. I was determined though to shove that sucker in there if it was the last thing I did!
No success except for a little bead of sweat on my brow.
A mini-van pulled up behind my car. A lady rolled her window down and offered to help me. She offered to take my chair home for me! A stranger. Someone who I had never seen before in my life. An angel!  I was taken aback.  I didn't know what to think. She explained that she was on her way home and saw me struggling to get the chair in my car. She said, "I just wanted to do something nice for you and I hope someday when I am trying to shove a chair in my car, a stranger will offer to help me out too!"
She  hoped I would accept her offer. I hesitated at first and offered to call my husband with our mini-van to come and rescue me. She promised she wasn't a weirdo who steals chairs from women in thrift store parking lots and gave me her name and cell phone number. I kind of had no choice but to call Jon and wait for him after he picked the boys up from school, so I accepted her help.  I did tell her that if she tried to make off with my chair, she wouldn't get very far with it because I have the cushion. Teehee.
She made it to my house minutes after I did and carried to to the curb for me. I was super appreciative for the kindness of strangers and their willingness to enable my thifting habit. It was a great shopping day! Yay for the kindness of strangers!
So…after all that, do you still want to see the chair??!! If I were you, I would be thinking by this point in the long winded story, it should be gold encrusted and studded with jewels. Nope, just a blue 18 dollar wing back.
But it's mine!
And that's my Goodwill Party contribution! I have more…you know I do! But I will have to take pictures. Until then, Happy "Goodwill" hunting! *snort*